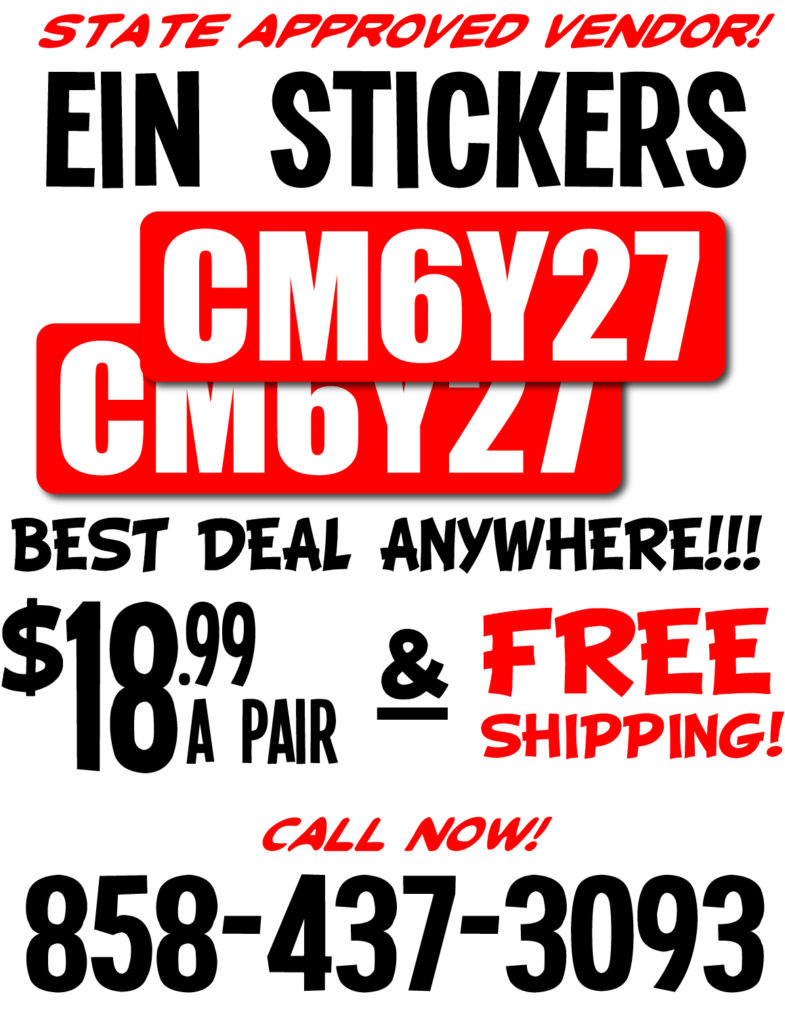 Poway Sign Company is a State Approved Vendor for EIN Stickers.
We have the best deal anywhere -$18.99 a pair & FREE SHIPPING!
If you order more than 6 sets you will only pay $10.00 a pair & FREE SHIPPING!!!
We make your custom EIN stickers and ship USPS priority mail within 48 hours.
We take all credit cards AND PayPal too!

The California Air Research Board (CARB) requires all vehicles subject to Off-Road Regulation be labeled with a unique EIN (one on each side of vehicle). Fleet vehicles such as Caterpiller, Komatsu, Volvo, Hitachi, Liebherr and John Deer all require EIN stickers before they are allowed to operate.Poway Sign Company has demonstrated to the ARB that we can supply Equipment Identification Numbers (EINs) that comply with the requirements of the Off-Road Regulation and we are listed on the CARB website as a preferred vendor.
Our EIN stickers are printed on high quality vinyl using our exclusive rapid air technology which allows for an easy bubble free installation. All EIN sticker are laminated with a 3 mil thick UV resistant semi gloss coating. After print and lamination our EIN stickers are machine die cut and then a transfer tape is applied to the sticker to protect it during shipping and allow for a simple installation. Arguably the highest quality EIN sticker in California!!!!
Don't get caught without your EIN decals!
Fleets that do not comply will be SUBJECT TO FINES OF UP TO $10,000 per vehicle per day
Call Poway Sign Company to order Monday through Friday 9AM to 5PM at 858-437-3093!
Be sure to have your DOORS approved EIN number(s) available.