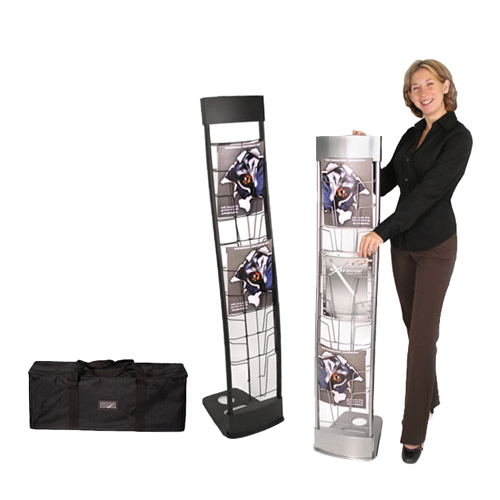 A lightweight literature stand or rack from Poway Sign Company is the perfect addition to any San Diego trade show exhibit. Racks come with carrying case and takes just a few minutes to set up. Organized display of your literature makes a big impression on potential clients. We can customize the literature racks to fit your needs.
What are Trade Show Literature Racks?
A Poway Sign Company literature rack is a tool for holding pamphlets, brochures, booklets and other forms of literature. These Literature Stands are particularly useful at San Diego trade shows. When literature about your product or business is professionally organized, it makes a lasting impression on potential clients. You have spent a great amount of time and energy creating quality literature, you want to give it the level of presentation it deserves.
Add polish to your presentation
Display your product or business literature
Make knowledge about your product or business accessible to clients
Features of Literature Racks
Literature racks come in a variety of sizes. You can use racks of any height. Typically, shorter literature racks can comfortably rest on a display table. However, you might have an ample amount of literature and wish to use a tall, free standing rack. Custom literature racks can be created to suit your needs. These racks are also highly portable and can be compressed and folded after use.
Can be customized for your needs
Fold for storage and portability
Long term use
Easy to transport
Best Uses For Literature Racks
Literature racks can help introduce your product or business to a trade show audience. You can have a wonderful product, but without proper presentation buyers and potential clients may not take note. Custom literature racks can be stellar tools in promoting your product or business.
Excellent for trade shows
Present your product or business in a professional manner
Use for libraries and book stores
Use at doctor's offices or corporate lobbies
Literature Rack Printing Options
The racks use semi solvent inks that are printed on 13oz premium vinyl. This helps ensure the durability of your rack. The hemmed edges also strengthen the grommet holes.
Solvent inks increase durability
Outdoor UV inks
Strong grommet holes
Lifespan and Care of Literature Racks
When literature racks are properly cared for and stored, they can last a fairly long time. If a rack if used outdoors, the outdoor UV inks will allow to last a year without the ink fading. If the literature rack is used indoors, the typical lifespan is 5 years.
Outdoor use for a year
Indoor use for 5 years
Poway Literature Racks:
Make your marketing material easy to reach with one of our literature racks. They are easy to set up and break down and will fit anywhere in your tradeshow exhibit. Call us today for a free quote!