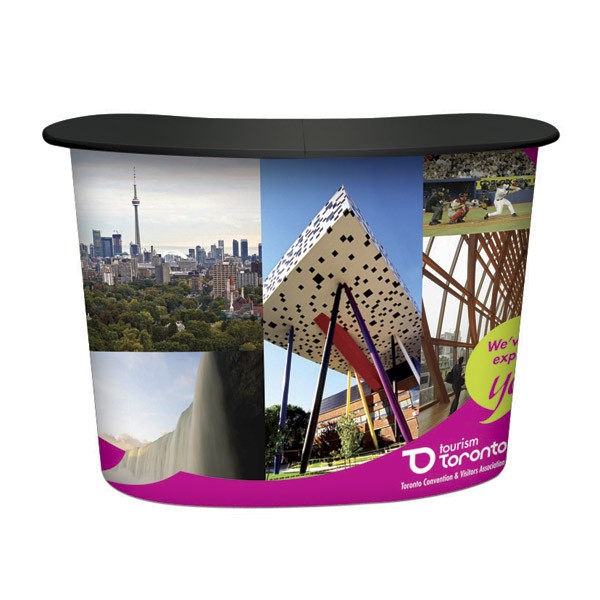 Steal the competitor's attention at your next San Diego trade show with one of Poway Sign Company's beautiful podiums. Our Trade Show podiums provide you with the ability to interchange custom printed graphics, making them perfect for many trade shows or events. Poway Sign Company Podiums are an marketing tools for starting conversations with potential customers.
Features Of Podiums
Poway Sign Company podiums are sturdy and secure. Custom podium signs can be put on the top of them or on the front, back or sides. The use of custom podium signs help to garner attention at a San Diego Tradeshow. Using the custom printed signs inserted into a podium display is a great way to attract and keep attention. Podiums and retail counter tops are the perfect addition to your trade show exhibit. Both take just minutes to set up and break down, making them easy to transport to your next show.
Highlighted features:
Long term use
Easy to transport
Interchangeable graphics
Best Uses For Podiums
Business use podiums for different reasons, and the best one is for trade shows. A trade show podium will give them the best advantage over their competitors. Using the trade show podium when a company wants to stand out is a good idea.
Use at trade shows to discuss company literature
Use a place for visitors to review company assets on their own
Use as a counter to perform transactions
Use a podium for small live events at trade shows
Podiums Printing Options
There are a variety of printing options for podiums. Consider custom printed graphics for a podium if you care about your brand image and consistency. You can choose the size and material that podium graphics are printed on to match your needs and budget. Contact us and we'll walk you through a variety of options.