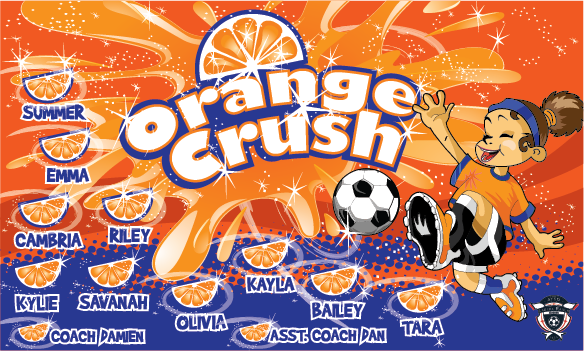 Poway Sign Company offers sports team banners for all of San Diego County. We know you're busy! You can rest easy knowing that every time you order a team banner, little league banner, soccer banner, pop warner banner, AYSO banner, pony league banner, high school sports banner, baseball banner, football banner or softball banner, it's going to be a simple, non-complicated, quick process. Our friendly, dedicated staff handles each order with extraordinary care and courtesy. Our quick turnaround times and low shipping costs if need be, add to our distinctive approach. Whether it's full-color team banners, individual pennants, or decals, our meticulous commitment to craftsmanship assures that every banner is delivered flawless in San Diego and beautifully tailored to your team. We also offer Poway sponsor banners, church banners, retail banners, and commercial banners.
Poway Sign Company 3 x 5 outdoor sports team banners are printed on high quality 13 oz. vinyl. Pricing starts as low as $4.00 a square foot. We are happy to customize your order for you. The banner price includes minor artwork, color, name, and font changes. Any additional changes may result in an additional fee. Your banner will come standard with grommets. You will receive proof of your customized banner within 1 business days via e-mail. Please review your banner carefully to make sure all names are spelled correctly. If you would like to make any changes, you will be able to do so at that time. Once your banner has been approved we will move into production.
All banners will be completed and ready for pick up within 48 hours of approval of final artwork.