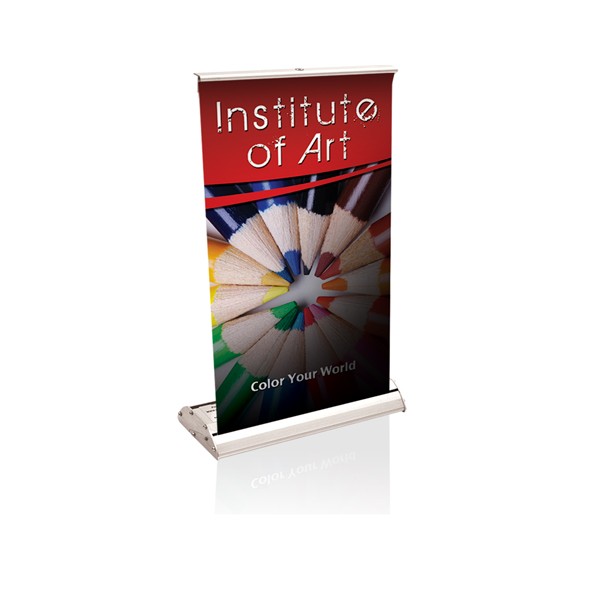 A table top display that travels with you easily, the retractable banner stand is the perfect option for any point of sale, trade show or event presentation. The retractable aluminum stand allows you to set up a standout marking display in seconds.
The 14" X 27" Table Top Display is a high quality marketing display that is easy to transport and set up. Printed on a synthetic fiber material, the banner features custom printed graphics in full color. The retractable display saves you time on set up and tear down. The sleek aluminum base compliments the brilliant colors of your banner and stores your banner safely. Your display is also stabilized by the sturdy and lightweight stand. The 14" X 27" is portable enough to include in every trade show you attend or to use as part of any point of purchase display, college fair or any event. Purchase the aluminum carrying case to help transport the Table Top Display even easier.
Features and Benefits:
• Quick set up
• Versatile display option
• Sturdy, sleek aluminum base
• Banner printed in full color with custom graphics
• Portable weight
• Compact yet standout display
• Aluminum carrying case available for purchase
• Replacement banners available
Bring your trade show or sale display together with a table top display. The compact design gives you the flexibility to showcase your banner stand on any trade show table, cash register, small event tables or wherever you need to display your message. Your banner includes full color printed graphics and is stored safely by the aluminum base. The retractable banner allows you to put it away in seconds and move it to a different spot of your display or safely stores it until you need it for your next trade show.